COMMUNIQUE
MEDICAL COUNCIL OF MAURITIUS
This is to inform the public that Dr Arvind RAMGULAM a specialist in the field of Obstetrics & Gynaecology has been deregistered as a registered person at the Medical Council of Mauritius as from October 19, 2022.
This decision was taken following a report of the Medical Disciplinary Tribunal which was endorsed by the Medical Council at its sitting of October 18, 2022.
Any medical practice if undertaken by this doctor would be construed as an illegal practice under section 37(5) and an offence under section 44 of the Medical Council Act.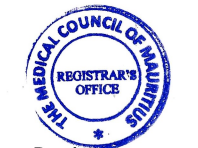 Registrar
Medical Council of Mauritius
October 19, 2022